Curved Expressions: Kashmiri artist speaks through Arcs of Calligraphy
Sporting dervish like visage, 65-year-old Sheikh Jalaluddin has been carving his imagination through wood art for the past 46 years from the small factory in his house in Srinagar district. His stunning works grace the main mosque of Kashmir, including monasteries and other shrines of the valley.
Long back in the early 1970s, Jalaluddin became involved in this work after acquiring skills from local artisans of the valley, before setting up his humble workshop in his home, he also worked in a few woodcarving factories in Srinagar.
To accomplish the arduous work of creating exquisite wood carved panels, Jalaluddin first makes scrutiny of the wood before axing it as per the intricacies artwork. Digging on the canvas, then rubbing and burning the wood and rubbing again, and as the colour dissipates, he creates such carvings that the visitors get attracted to his work.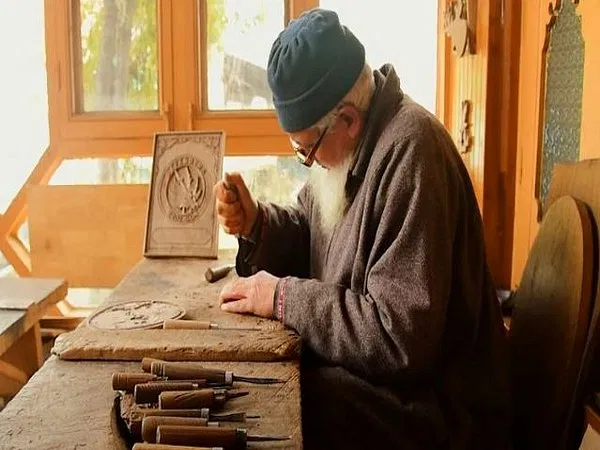 The striking thing about his craft is that he does calligraphy in many languages such as  Arabic, Urdu, Hindi, English, Sanskrit and Punjabi. At 64 he defies the age proving that age is just a number if one is passionate to create. His handiwork has been gifted to several dignitaries, including former Prime Minister Manmohan Singh and the British Ambassador. Jalaluddin also got the opportunity to work in Dubai where he demonstrated his artistic skills for about 10 years.
Using 40 different tools to carve a piece of art, he has engraved several Quranic verses on wood. But the carving of Surah Al-Nashrah, the last paragraph of the Holy Quran, is considered as one of his great works of art. Many of these tools are not easily available in the market because the tools have to be customised according to the pattern and writing.