Maison Édéenne, Parisian High End Jewelry Designer
Struck by an enigmatic epiphany at 45 during a Scuba Diving adventure, Maison Édéenne, Parisian High End jewelry Designer realised her true felicity in glinting Gems. In conversation with Authindia, she talks about the inimitable legacy of Indian handcrafted jewelry and the facts which make her brand stand out in high jewelry market. 
Let us know about your journey as high Jewelry designer in brief.
After a life as a coach for CEOs, Programmator at the Museum of Modern Art at Pompidou Center in Paris and film producer, I suddenly realised at 45 that my destiny was to found a House of High Jewellery when I had an epiphany during my first scuba diving at the Lac Magiore. I had an accident and I had to dive down again. I was so scared. But when I was at the bottom of the water, I was surrounded by a rainbow which turns all the stones underneath me under fake sapphires, rubies, emeralds and so on. Took the golden stone and I decide to be a jewellers. Two weeks later I was at the gemology school and I made my 4 year studies within 4 months, I was in a rush. .
That day, I chose to change my name to a beautiful, intriguing name, the one invented by my great grandmother for my own grandmother. In French, Édéenne sounds close to Eden, which seems fitting : my mission is to make customer's dreams come true in high jewelry.
How do you describe your jewelry, and what is your most treasured work so far?
First and foremost, each of my Jewels magnifies a  personal story, the one of its wearer. As per the luxury publication like 'The New Legend of Place Vendôme' by Departures magazine and 'New Gem Star' by the FT How to Spend it, Maison Édéenne revolutionizes Parisian High Jewellery by offering a truly unique service: Jewellery Beyond Bespoke. 
When customers contact me, I invite the client to a rare experience : a private meeting (which could be now online as well) with them and myself, in my artist atelier. During this warm, intimate conversation, I listen carefully to what matters most, their life and values. I ask many private questions. Akin to a biographer, I delicately capture my clients' stories, and, by magic, the piece takes shape in my mind. I put in a piece of High Jewelry what moves me from their life.
Each of my creations celebrate the uniqueness of its owner, and witness the exceptional in each person. My style is often said to be full of poetry and surprises. I believe jewellery is an art and bears deep meaning. They are more than a Jewel, a true "portrait in jewellery" laden with symbols and emotions. 
How do you cater to contemporary demands with traditional jewelry designs? 
To make impossible come true, I don't only rely on the highest Parisian High Jewellery savoir-faire and century-old traditions, I invent new techniques. But they are kept unexpected, because, for me, savoir-faire has meaning only if it serves Art and Poetry.
My collectors distinguish themselves by owning unique pieces, rather than buying items sold identically worldwide. They embrace the joy of works of art rather than marketed items. They enjoy jewels that reflect who they are. I am truly inspired by Art. At first, I was an Art historian and came to Paris from Canada to write my thesis at La Sorbonne University. I believe Art will save us from the tumults of life. We need artists who give us back their vision of our humanity. And I trust High Jewellery is True Art. I made portrait in jewelry like painters make portrait on a canvas.
As we speak now, I am working on large commissions for a private customer. I enjoy so much making their uniqueness shine through jewels! Nothing moves me more than to see the customer's delight when I deliver the pieces.
"No one in the world has such close relationship to jewelry like people from India."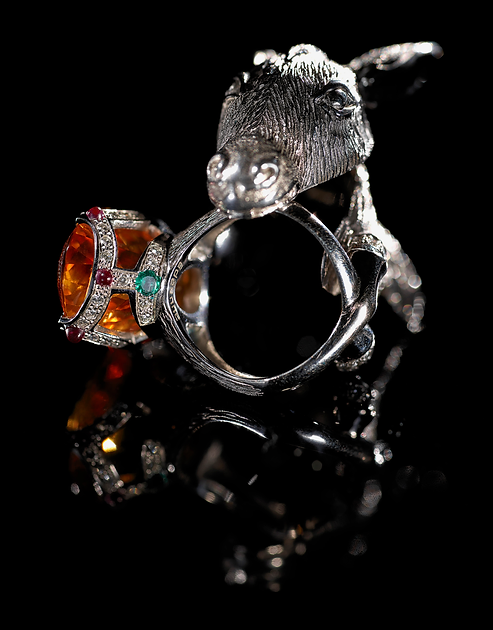 From where do you generally source the precious stones and other materials for your line of jewelry? 
I source my stones from everywhere in the world.
 It depends what I am working on. I travelled a lot in the past, but now I know many dealers and I ask to the one who will be the closest to my request. They all know the level of my standards. Of course it is in India where we can specially get stunning diamond cuts. Many thanks to all your incredible craftsmen ;-). India is where on this planet we can make our dreams come through with specific unusual creations. Which is a actually my case.
"In my opinion, the manufacture by the hand is without comparison and must be preserved."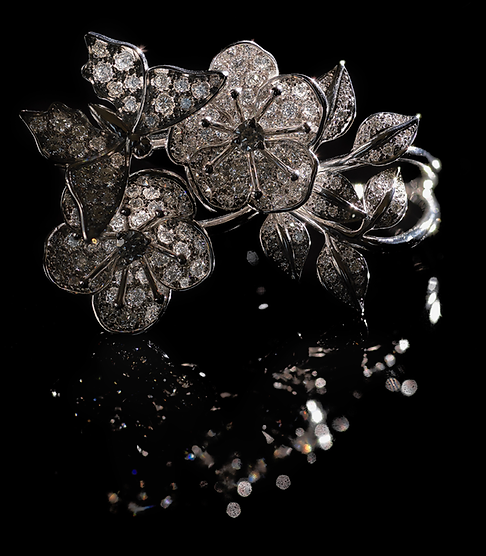 Given its Royal tradition & prolific history of jewelry makers in various provinces of India, how would you discern the scope of Indian handcrafted jewellery in European market?
I had the chance to visit India 4 years ago. I literally fell in love with India. I visited workshops, jewelry stores, stones dealers, jewelry collections in museums. No one in the world has this relationship to jewelry like people from India. You even invented jewels to put in braided hair. It still remains in your common memories, day by day. I envy you there! You are always wearing a lot of jewels.

In eastern countries people are more and more cautious about what they wear. They buy more and more sustainable pieces on one hand and on the other not too expensive. But they love stones!
India hold such an incredible range, from Viren Baghat who, on my point of view, is one of the greatest jeweller in the world, offering amazing pieces with incredible competitive prices.Talking about the market in for Indian jewelry in Europe the question is if one wants to work for a European brand or one wants to expand an Indian brand.
How important is the role of design Institute in encouraging traditional handcrafted jewellery?
Now a days more and more the industry works with computers for design and waxes making. On my point of view, handcrafted techniques give more emotions. Of course computers and digitalization help in designs and market accessibility to go beyond borders, but I guess that at one point we will not be able to make the difference.