'Majnu Collection' by Jaipur rugs designed by Pavitra Rajaram displayed at the coveted Salone Del Mobile 2023, Milan
The unimpeachable beauty and craftsmanship of our Indian handcrafted rugs was displayed recently at Salone Del Mobile, 2023, a prestigious event for the design and furnishings industry—held in Milan.
One couldn't look without wonder, some of the unique carpets on display which included an exclusive Siphai derrys carpets depicting a figure of a soldier from the colonial forces stood framed against floral hashiyas, or borders, and mildly hued backgrounds featuring bootis.Inspired by the Afghan war carpets made in the late 20th century, when carpet weavers became chroniclers of history by including elements of military presence in their creations.
The carpets at Salone Del Mobile brought together this element with India's own history of colonialism by paying homage to the Indian soldier, who had once served in the British forces.
Sipahi is part of the new Majnun collection designed by Pavitra Rajaram collaboration with Jaipur Rugs. "Majnun is rooted in the history, geography, and storytelling of carpets that originated in Persia, China, and India and made their way through time to a global audience around the world," mentions the catalogue note.
The other series in the collection include Arjumand, which features the "Bid Majnun"—a weeping willow tree—a recurring motif in classical Persian and Iranian carpets, and Bahaar, rooted in the tradition of Shikargah, only in this series animals are not hunted but frolic and play in natural woodlands.
By virtue of this cross-cultural vocabulary, the carpets woven in India began to incorporate motifs and symbols from three cultural traditions: Persian, Tibetan Buddhist and Chinese," mentions the catalogue note. Each of these series from Majnun is available at Jaipur Rugs.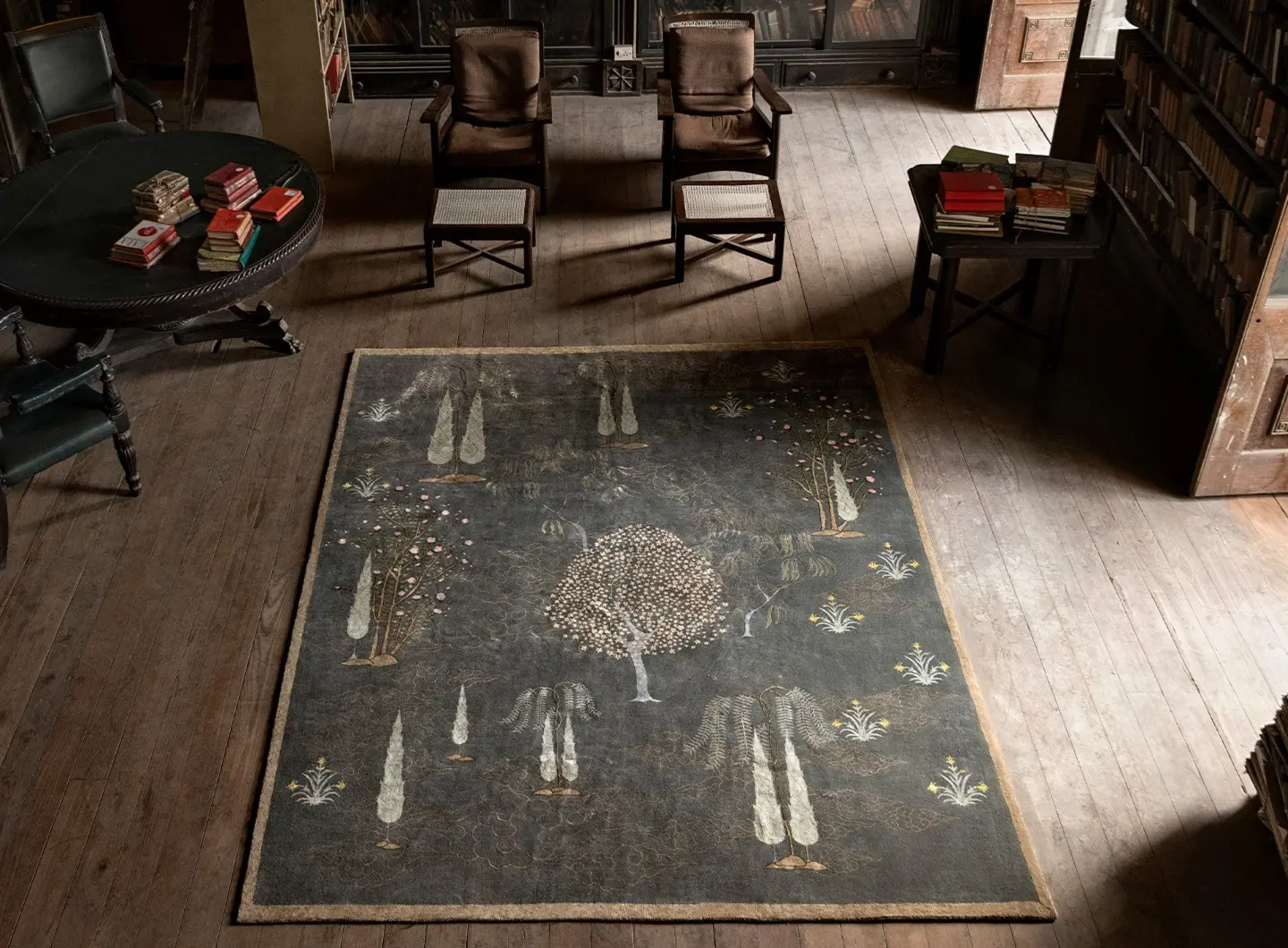 Rajaram has always been fascinated by carpets, bringing back specimens from Uzbekistan, Turkey, Morocco, and more, during her travels. There is a layered narrative in the Majnun collection—one that traverses time periods and geographies. Different stories woven  together in each piece.
Working alongside artisans has always been the notion of Jaipur Rugs as they added so much nuance to the design and storytelling process. Discussions around motifs, colours and material acquired greater depth as a result of this collaboration.